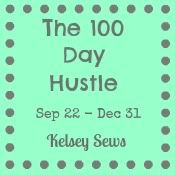 1. Baby quilt for my new niece - finally decided on a quilt, have fabric. That's all the progress.
2. Cosmo bag for me - still halfway done. No more progress.
3. Red and Black bag for MIL - no progress
4. Green and Blue Mini quilt for me - PROGRESS! Finally! Have it all cut out and part way sewn. Yay!
5. 4 quilts to be sent to longarmer and binding to be found, made, and put on. - Sigh
6. Blue green and pink quilt - Still undecided on pattern.
7. Marmalade quilt - No progress
8. OYGB Quilt - Still undecided on sashing.
9. Black, red and white quilt - Quilt pattern decided. No other progress.
10. Scrap vomit quilt - participated in a couple swaps, so still collecting fabric. But making progress. :P
Linking up : Kelsey Sews - http://www.kelseysews.blogspot.com/