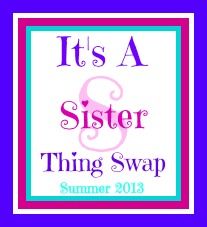 I'm participating in the Sister Thing Swap over at
Quilts from my crayon box
( she is hosting) . Got my partner information today, and I am super excited to let the "stalking" begin.
On another note, I volunteered to make pillowcases and zipper pouches for a charity through
Mommy for Reals
...I'll post pictures of the pieces I made later. Gotta get my camera to agree with me. But I think they are cute and hope they will be well loved!